About Haj Hossein Agha Malek
Haj Hossein Agha Malek was born in 1873, Tehran to a family of Tabriz origin. Although his ancestors where known to be clergymen, his grandfather Agha Mehdi refrained from being a clergy and joined the army during the Russo-Persian war and turned to business after the war.
Mirza Taghi Khan Farahani (later entitled to Amir Kabir) who was close to Agha Mehdi was the chief steward of Naser al-Din Mirza the Prince. After Mohammad Shah Qajar died, Mirza Taghi Khan borrowed some 100 thousands Tomans from Agha Mehdi in order to bring the Prince to Tehran to be seated on the throne. Agha Mehdi also moved to Tehran and entitled to "Malik al-Tojjar" by Naser al-Din Shah and after his death Mohammad Kazem, his son, inherited the title. Like his father, Mohammad Kazem became involved in both commercial and political activities.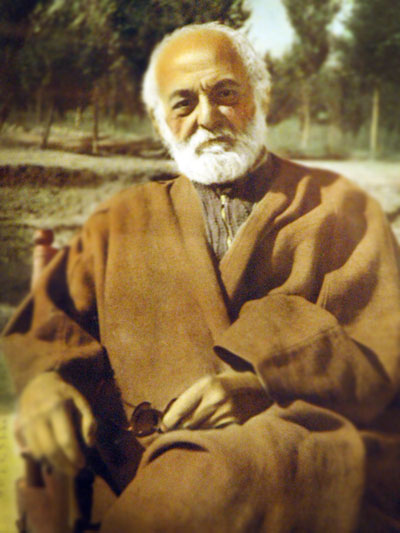 Although young Hossein was not allowed to go to modern schools, as his father thought their teachings contradict the religious principals, he went to a French school in secret to learn French language, where he became classmate of Mohammad Ali Foroughi.
Mohammad Kazem Malek al-Tojjar was a successful wealthy merchant and left a considerable heritage for his children and that is where Haj Hossein Agha's properties originally come from.
In the age of 28, when Haj Hossein accompanied his father in a trip to Khorasan to manage their estate, he saw a manuscript and some treasure of Astan Quds Razavi and became interested to collecting manuscripts. This interest led to the creation of an incredible collection of manuscripts and printed books.
Consequently he founded his own library in 1908 in Mashhad and after his father passed away the library was moved to his father's house in Tehran. Haj Hossein donated this house with all the containing precious treasure to Astan Quds Razavi in October 28, 1937. This collection consists of thousands of manuscripts, printed books and lithograph manuscripts, and artifacts such as calligraphy, miniature, lacquer art, carpets, textiles, furniture, paintings, metalwork, stamps, and coins.
An enormous amount of his agricultural land, property and wealth was given as "waqf" (religious donation) in 1937 to the shrine of Imam Reza in Mashhad, the Astan Quds Razavi and in this way he was entitled to be the greatest philanthropist of the contemporary Iran.
This wise philanthropist and culture-lover passed away in 1973, in the age of 101 and was buried in Imam Reza Shrine.