Exhibition of Thousand Stories
The exhibition of thousands of stories is an excerpt of what has been narrated in Iran for hundreds of years sometimes written in poetry and sometimes in prose.
.
​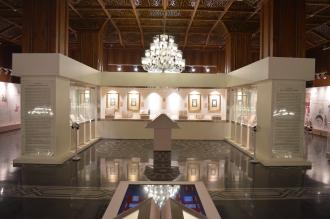 This Exhibition dedicated to Iranian old stories those we may call heritage which some of them are real and some has route in myths and legends. ​
Tales are human's twins and all over the world in any cultures they are rooted in beliefs, desires, lifestyles, traditions and customs of the people living in societies. Some of these tales have too long past to find their date of creation. The common structure of some stories show that human's hopes, dreams and even frustrations have common origin all over the world. Tales before the advent of writing crossed the borders of time and place verbally from a generation to the next and from a land to the other and survived and became fertile in this long and amazing journey of time to be written and eventually took place in books. Books became the narrators of stories and libraries near science and theories, became the house of stories which can be used for recalling and recognition of culture and civilization. Beside the pleasant and magic features, stories are the resource of advices, wisdoms and teachings and the first kind teachers of humans. This will be understood when we close our eyes and review our nice childhood memories.
In Quran God tells the prophet Muhamad: "we read stories the best by the inspiration". In this Muhamad's miracle (Quran) many divine wisdoms have been narrated through stories following this, in Islamic Iran's written heritage and artistic and literary masterpieces, influencing by Quran, wisdom, morality and advices are outlined in stories.
Many centuries before invention of short and minimalistic stories, single-bit and double-bits tales can be found in Farsi literature masterpieces. These examples show such rare excellence in any artistic creation.
Tales fly by long wings of imagination and reality in human's mind in new and modern templates and continue and exist as long as humans exist. Stories one day were accustomed to stay in book waiting to be read but today such stories come out of books and show to be seen, be read and be known.
Malek National Museum and Library is a story house which reflects us in stories of past full of ups and down and The Exhibition of Thousand Tales is a window to such view.
Since stories do not have clear initial point, they will not have end point. It seems that humans live inside tales and stories. As Hafiz says:
There is no end for me and for my love, everything which does not have beginning, will not end.
​